Call now to get out of jail fast!
Our Offices are Conveniently Located near the Hampton General District Court, Hampton City Circuit Court and the Hampton Jail.
We are only minutes away from all Hampton Roads Jails and Courts.
Our headquarters are located at
122 East Pembroke Avenue, Hampton, Virginia 23669.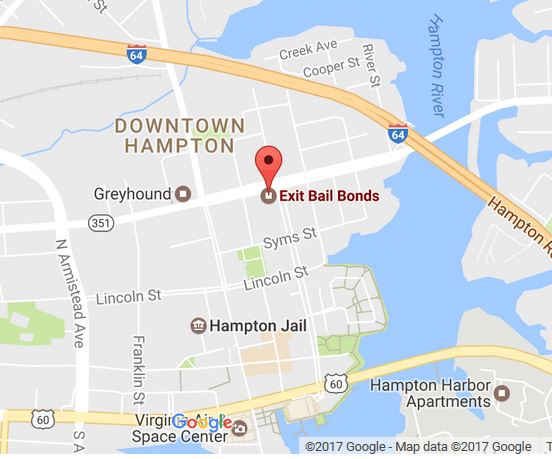 Exit Bail Bonds | King Grobel Bail Bonds
122 E. Pembroke Ave Hampton, VA 23669
Hampton, Virginia
Newport News, Virginia
Eastern Shore, Virginia
Richmond, Virginia
Service Areas
Bail bond service, all jails, all courts, in all U.S. bail authorized states.
Emphasis on all Virginia jails and courts with a special emphasis on Hampton, Newport News, James City County, York County, Williamsburg, Virginia Beach, Norfolk, Chesapeake, Suffolk, Eastern Shore Virginia, Accomack County, Eastville, Accomac, Hanover, New Kent, Henrico and Richmond Virginia.
All of the Hampton Roads Virginia area. Nationwide Bail Bonds also available. Immigration bonds anywhere in the U. S.
Call now to get out of jail fast!