Our Affiliated Attorneys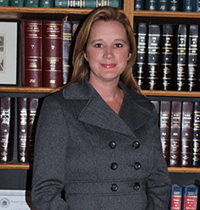 Cavanaugh Law, PC
Cavanaugh Law, PC provides clients with quality representation in criminal, traffic, family law, and personal injury cases.
Michele Cavanaugh received her undergraduate degree from St. Leo University. She graduated with a Juris Doctorate from Regent University School of Law. Prior to attending law school Michele worked as a paralegal for over twelve years in the Hampton Roads area where she gained valuable experience.
Michele brings this experience to her private practice which focuses on criminal defense, family law, and representing injured parties.
www.cavanaughlawpc.com
122 E. Pembroke Ave | Hampton, VA 23669 | 757-728-9600

---

The Stellute Law Firm
The firm of Joseph J. Stellute, Selena Stellute Glenn, and Mario J. Stellute has represented thousands of clients in a wide variety of personal injury matters. With each and every case they work diligently to provide just compensation.
34 Wine Street | Hampton, VA 23669 | 757-722-2815
---
The Smith Law Firm
With nearly sixty years of combined experience, the Smith Law Firm is an established Hampton Roads law firm practicing throughout the Commonwealth of Virginia. Criminal Defense & Civil Litigation. Ron Smith, Corry Smith, Romeo Lumaban, Jr. and Matt Ballard.
133 Kings Way | Hampton, VA 23669 | 757-723-1991
---
Shawn William Overbey
Shawn has a natural passion for litigation. He has utilized this passion in representing thousands of criminal, personal injury, business, real estate, and custody/visitation clients. Shawn recognizes that individuals are often traumatized when they are confronted with legal issues. He adopts the philosophy that candor and compassion are staples that can be used in helping individuals through a difficult situation.
11832 Rock Landing Drive | Suite 201 | Newport News, VA 23606
Phone: 757-320-1029
Toll free: 800-443-3139
---
The O'Brien Law Firm – Crystina M. O'Brien
Crystina (Kowalczyk) O'Brien is a zealous advocate.  She loves a challenge and looks for the difficult cases and tough fights.  However, what makes Crystina stand out among the crowd is the passion with which she takes care of the welfare and interests of her clients.  Crystina puts her clients first and appreciates the trust that they place in her when they choose her to defend them in a criminal, military, divorce, or traffic law case.
10 Queens Way, Suite D | Hampton, VA 23669 | 757- 915-6986
---
The O'Brien Law Firm – Tiffany N. Sullivan
Tiffany N. Sullivan  "Every child should have a voice."  Children, teenagers and young adults are overwhelmed and confused by the legal system, sometimes not knowing what to say in their defense or how to explain the events surrounding their situation.  A defense attorney needs to be able to listen and be their voice. Tiffany Sullivan comes to the O'Brien Law Firm from a strong background in Juvenile Criminal Defense and Family Law.
10 Queens Way, Suite D | Hampton, VA 23669 | 757- 915-6986
---

The O'Brien Law Firm – Michelle Mathis
Michelle Mathis practices landlord-tenant law, criminal defense, family law and military law.  Before joining The O'Brien law firm, she ran a solo practice in Norfolk.  She primarily serves clients in Norfolk, Chesapeake, Virginia Beach, Portsmouth and Hampon.
10 Queens Way, Suite D | Hampton, VA 23669 | 757- 915-6986
---
Dee Vantree-Keller, P.C.
At my firm, Dee Vantree-Keller, P.C., I provide quality representation to help clients through difficult legal problems. I have more than 20 years of experience working hard for my clients to protect their interests. I defend Virginia clients against all felony and misdemeanor charges, as well as assist families in the areas of juvenile crime and family law and divorce.
Peninsula Town Center | 4410 E. Claiborne Square | Suite 334
Hampton, VA 23666 | Phone: 757-251-3835
Exit Bail Bonds | Ron Owens Bail Bonds | King Grobel Bails Bonds
Call us now to get out of jail fast!
1-757-761-7931 | 1-757-850-1800 | 1-757-344-0237